The objective of this guide is to illustrate how to carry out basic editing on your MP3 files. To achieve this objective, we are going to employ a step by step method to demonstrate to you how you can edit your MP3 files both online and offline. As a music enthusiast with a collection of MP3 songs, there are chances you would want to edit your music collection in order to enhance your music experience.
Before anything else, what is an MP3 file? In simple terms, An MP3 file is an audio encoding format that is used as a basis for digital audio compression. With an MP3 file, you are able to encode, decode, normalize volume, make mixtapes, shorten or fade out a song. Audio editing software makes all these editing tasks possible. This guide will explore both the online and offline MP3 editors.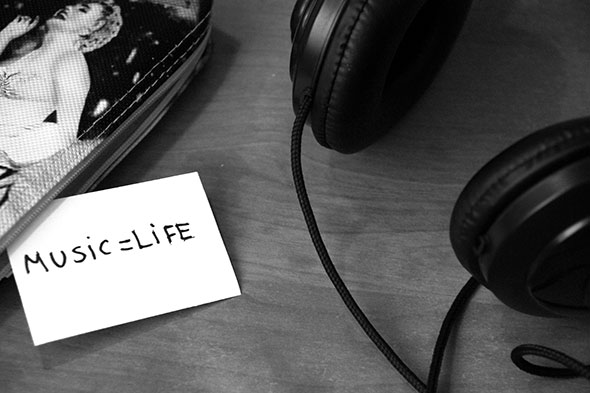 ---
Why You Need an MP3 Editor
You have a one-hour Tomorrowland Belgium 2017 main stage mix by Krewella or Hardwell and there are two or three great songs that in this mix that would otherwise be in the heavy rotation if they were not tied to such a tediously long mix. With an MP3 editor, you can cut these songs loose by opening up and editing it. The whole process is relatively simple, and with correct configuration, you can easily drag your mp3 file from iTunes, Memory card or hard disk drive chop it up and spit it back out.
Similarly, in your one-hour DJ mix, you want to remove some of the unwanted sections then an MP3 editor is all you need.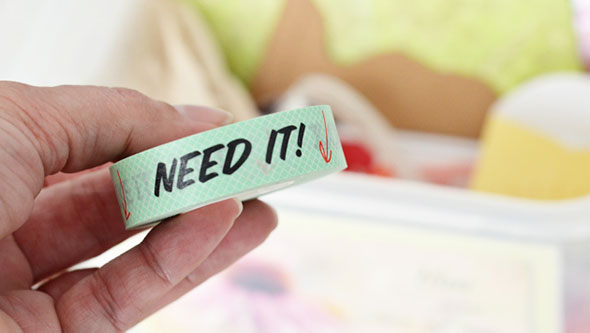 Online MP3 editor
There are quite a number of online MP3 editors but for the purpose of this guide, we will focus on Audio Trimmer. Audio Trimmer is an online tool which comes with the following features;
This feature let's cut mp3 tracks and other audio files online without necessarily installing the software on your computer or whichever device you're using. Audio Trimmer supports multiple audio formats namely;
MP3
WAV
WMA
OGG
M4R
3GP
M4A
AAC
AMR
FLAC
AIF
This online tool is not only easy to use but also totally free. It lets you edit mp3 on line on the fly. All you have to do is upload your file, select the part you want to cut out and click crop button. You will have your trimmed file in a matter of seconds.
Audio Trimmer is compatible with most modern devices ranging from mobile phones to tablets. Edit mp3 files directly on your device's browser. Better still, you don't have to install any third-party apps.
---
How to Edit MP3 Files Online Using Audio Trimmer
Step 1: Go to Audio Trimmer website

Step 2: Click on Choose File and select an mp3 file from your local hard drive.

Step 3: Audio will start playing immediately if it is supported by your browser, if not then click Upload.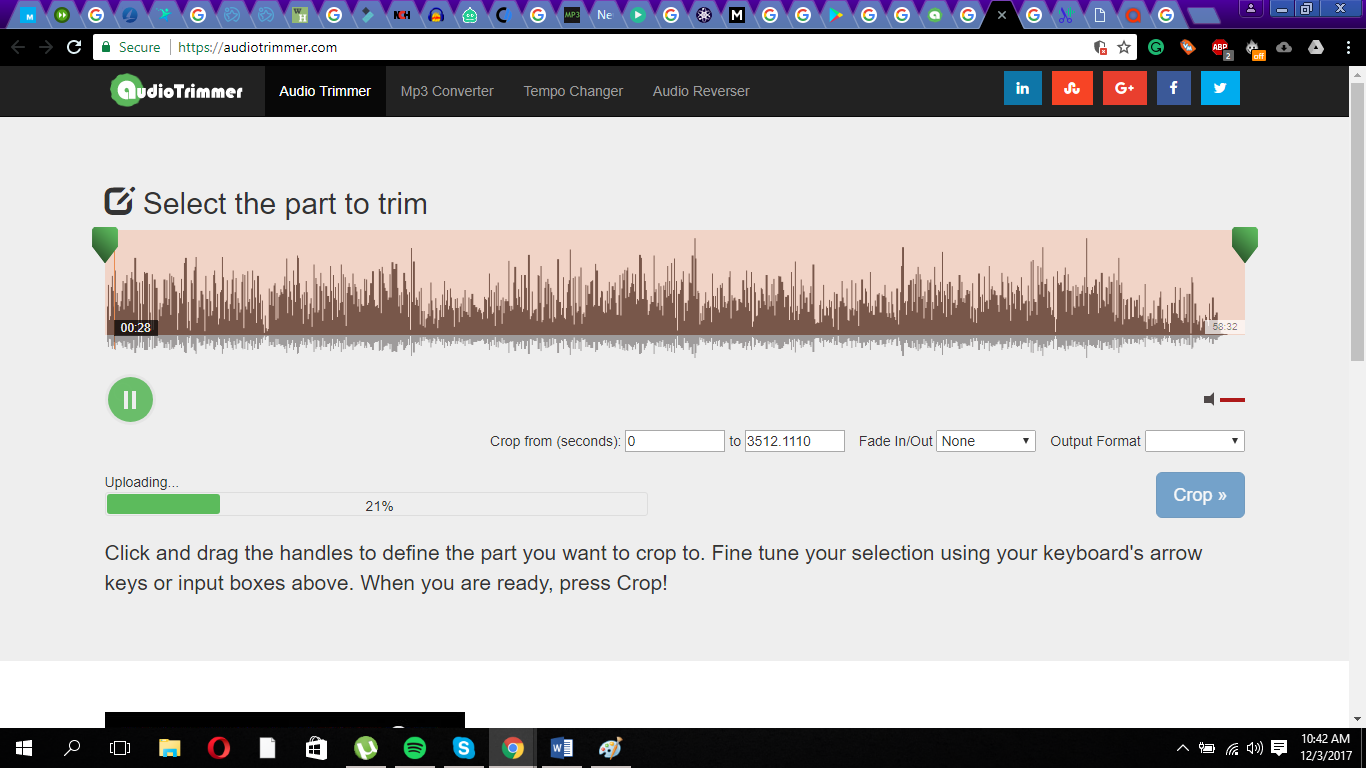 Step 4: Drag handles to select the part you would like cut and click Crop button.

Step 5: Click the Download button to download your edited mp3 file.

User Review
"Generally, this app is good for trimming songs. It is very easy to use, with a simple and straightforward interface, really a great mp3 cutter!"
Georgina Smith – Tucows
---
How to edit MP3 files Offline Using MP3 Editor for Free
Mp3 Editor for free comes with a wide range of inbuilt tools that you can use to edit your mp3 files. Other than having several inbuilt tools, you can edit your files offline, isn't that awesome? Additionally, you are not limited to choose files from your local hard drive, you can load from CD, import from video and get from YouTube only that you'll need an internet connection to download from YouTube. For this tutorial, we will show you how to edit mp3 files from your local hard drive.
Step 1: Launch MP3 Editor for Free
Step 2: Click Home on the menu bar and select Open from the drop-down.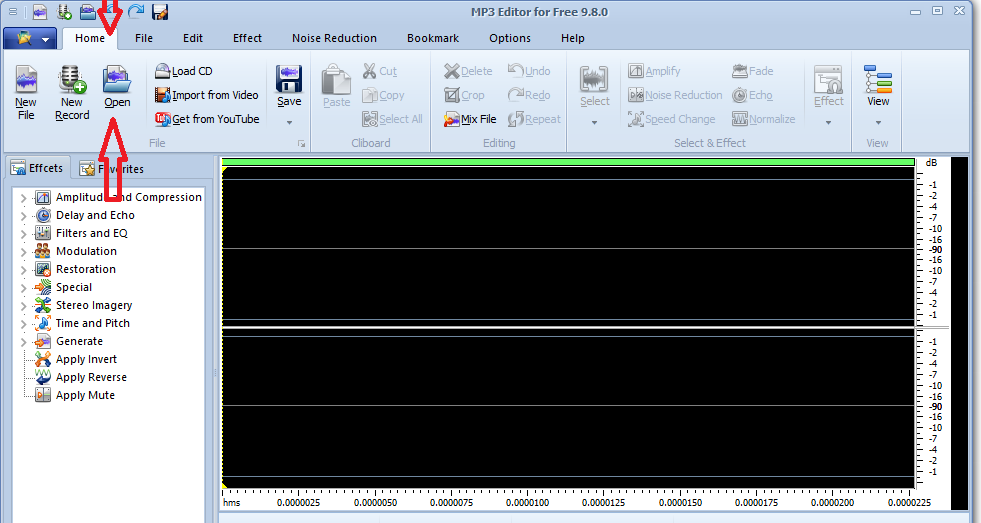 Step 3: Select your file from the popup window. However, ensure that your file is in mp3 format. For instance, if you realize that the file you want to edit is in m4a format, then you will first have to convert it to mp3 format before it can appear in the popup window, otherwise, it won't be recognized by the editor to be selected for editing. Once you have selected the file, click Open.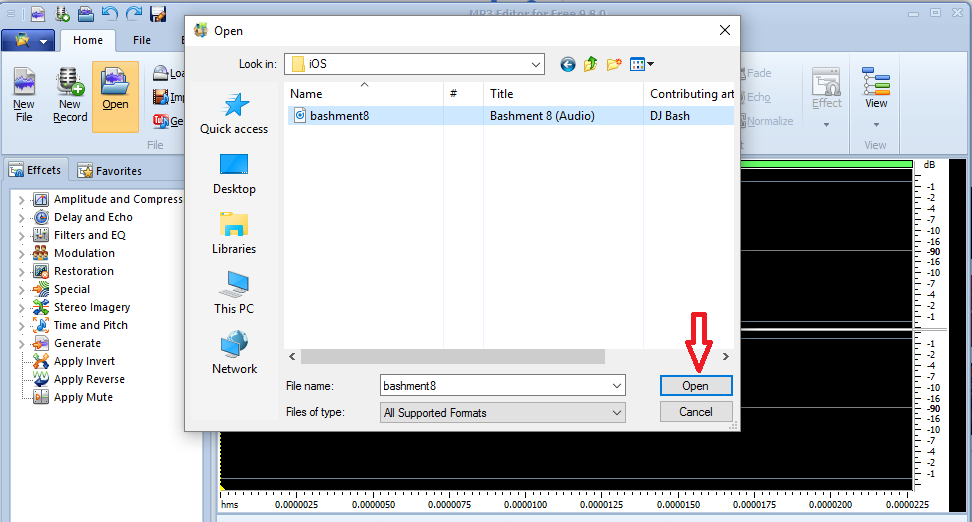 Step 4: Once the audio data has been processed, you can now apply the various editing tools found within our software as shown in the following screenshots;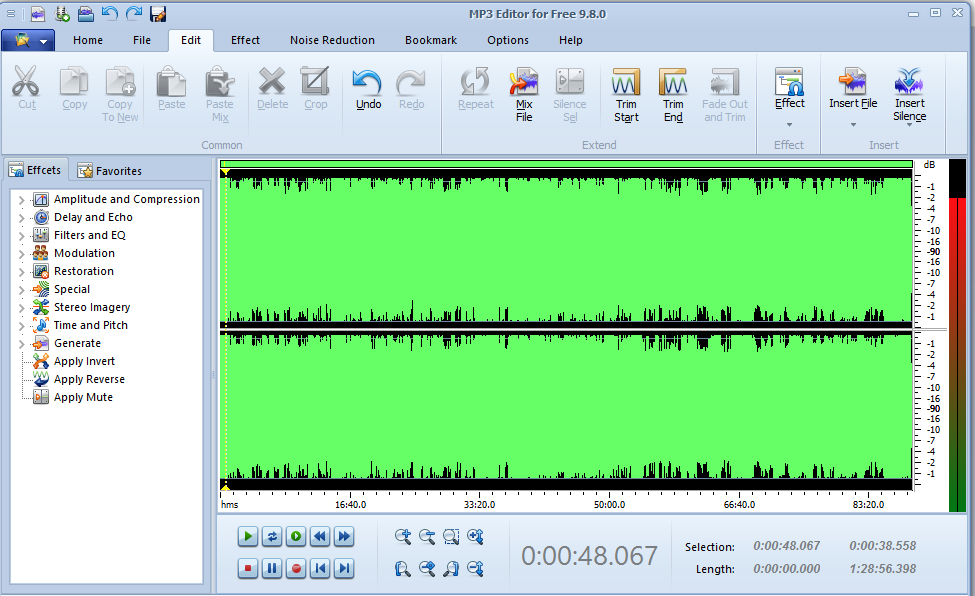 In the first illustration, we showed you how to cut an mp3 file using an online mp3 editor, now let's do the same but offline using MP3 Editor for Free.
Step 5:  Drag the cursor in the green area to mark the wanted part and crop out the unwanted part of the mp3 file. Click Crop button and finally click Save.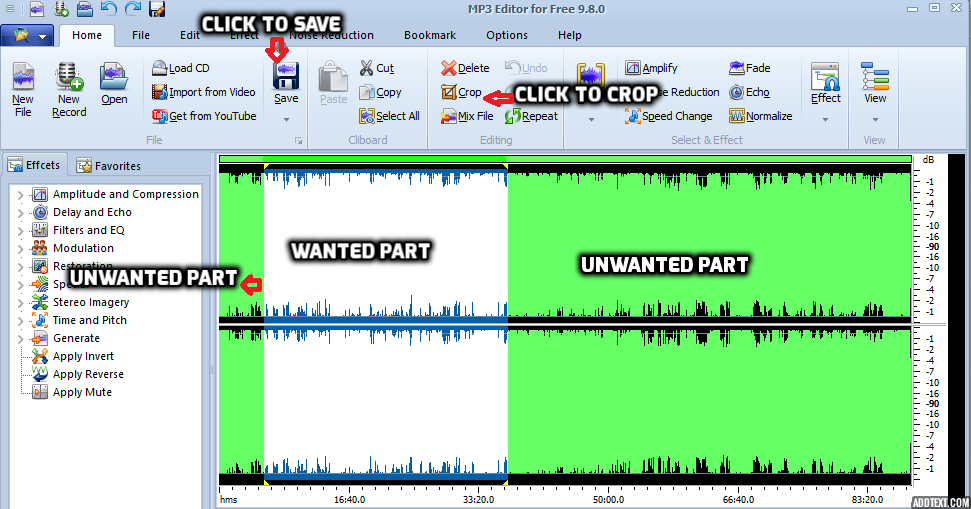 Step 6: Set the quality of your mp3 file if at all you are not okay with the preset quality then click OK.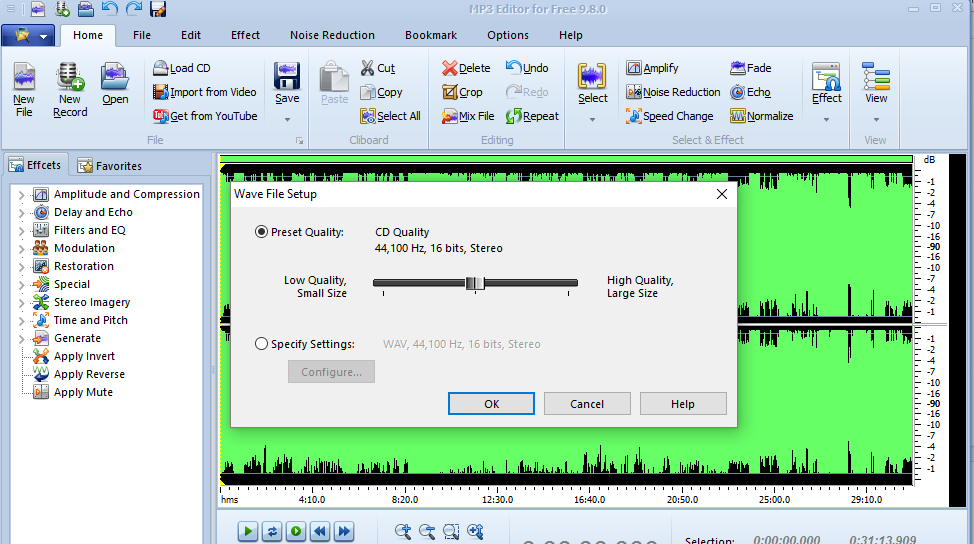 User Review
Maria Saldana
"In as much as this could work best for those who are well educated in music production, it is a PERFECT tool for beginners. I don't know much about music production but this software is so simple that I feel very confident in using it immediately. Literally zero difficulties. I actually was just looking for a music trimmer and was very pleasantly surprised to see that the app did much more than that. So thank you!"
---
Conclusion
If you really are someone who values easy operation and want top-notch results when editing mp3 files then you most definitely need MP3 Editor for Free. The greatest advantage of this software lies in its wide range of features that you can put to use to achieve the best results.