EarCatch Ringtone Express is an advanced solution for making ringtones from any sound. It is very easy to customize unique ringtone for almost all mobile phones. You are allowed to use basic editing functions like Cut, Copy, Delete, etc. or add audio effects to make unique ringtones.
---
Step 1. Add audio files
Launch EarCatch Ringtone Express. Click "Load from file" and select an audio file from your computer to input. It also allows you to input audio files by clicking "Load from CD" to input audio tracks from an audio CD. The file will be displayed in the waveform window.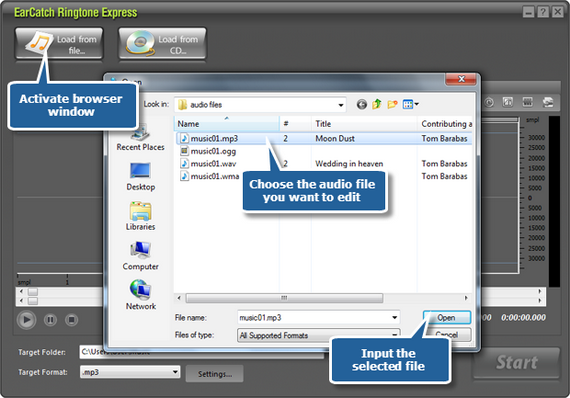 ---
Step 2. Edit selection
Select a part to edit as ringtone with basic editing functions (cut, copy, paste, trim, etc.) and add audio effects as needed. You can zoom the waveform by the zoom buttons or your mouse wheel.
(4 ways to select the portion: Drag your mouse with left button down along the waveform until the point where you desire to select a session of the file; Move the sliders below the waveform window to select a part; Enter the specific starting/ending time in the "Selection" area; Click on the waveform to set the starting point and enter the duration time of the selection as needed in the "Length"area.)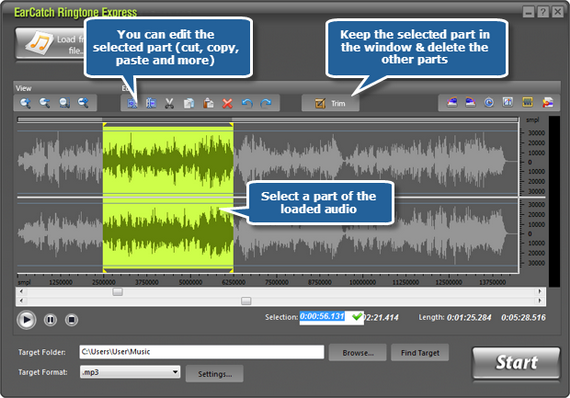 It is available to add some effects like echo, fade-in & fade-out as well as adjust the volume of the portion. You also have the power to pre-listen the selected part by clicking on the play button.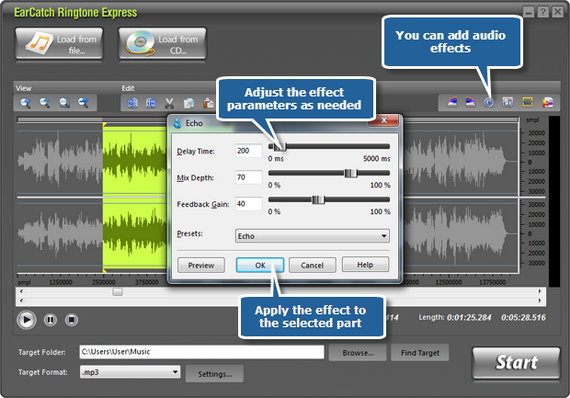 Step 3. Output ringtone
Click "Browse" to specify an output folder to save the output files and choose an output format from the dropdown menu of "Target Format" (MP3, WAV, WMA and OGG are supported).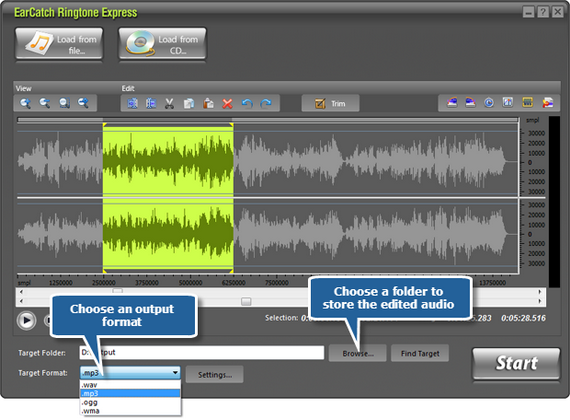 You can click "Settings" to use the well-configured quality presets or specify the configuration parameters to adjust the output quality. Then, click "Start" to output. When the processing window disappears, the ringtone creation is finished. The "Find Target" button helps you directly open the output location in case that you forgot where it is saved.